Restrictions regarding visits to patients
Online since 24.12.2021
You can find here the latest information regarding the Coronavirus pandemic.
Restrictions regarding visits to patients
From Monday the 6th of December 2021, visits are restricted to one person per patient at any one time. To avoid refusal to visit and of course any dosspointment, it is important that a coordination between patients and their loved ones is put in place.
Access to visitation remains controlled and is only possible under the following conditions for all visitors over the age 12 :
- A Covid certificate must be presented certifying a vaccination, a cured infection or a negative PCR test.
- A « paper » certificate awarded after taking a rapid antigenic test.

Visits remain possible between 13h and 19h every day. Outside of these hours, visits are forbidden. Visits should be made, when possible, outside the building in the perimeter of the Clinic (gardens, terrace).
Masks must be worn and visitors are requested to bring their own surgical mask.
PLEASE NOTE

Visits to patients in isolation, suffering from COVID-19 or suspected to be, are not allowed.
Until further notice, it is not possible to invite visiting guests to the restaurant.
Outpatients
From Monday the 27th of December 2021 (and until further notice), all outpatients (individual or in groups) who are following therapy at the CRR must present :
a valid Covid-19 certificate

or
an fast antigenic test carried out within 7 days.
Wearing of masks
Masks must be worn in all public areas of the CRR. Guests are asked to provide their own mask (masks made from material are not authorized inside the CRR).
How to protect yourself
Find on the site de l'Office fédéral de la santé publique, the information concerning hygiene regulations. You can also consult site of the Canton du Valais for general infomation regarding the situation in the Valais.
Special information for people with spinal cord injuries and wheelchair users : recommendations from the Société suisse de paraplégie (SSoP), published in collaboration with four specialized paraplegia centres, of which the Clinique romande de réadaptation.
Reminder of basic hygiene measures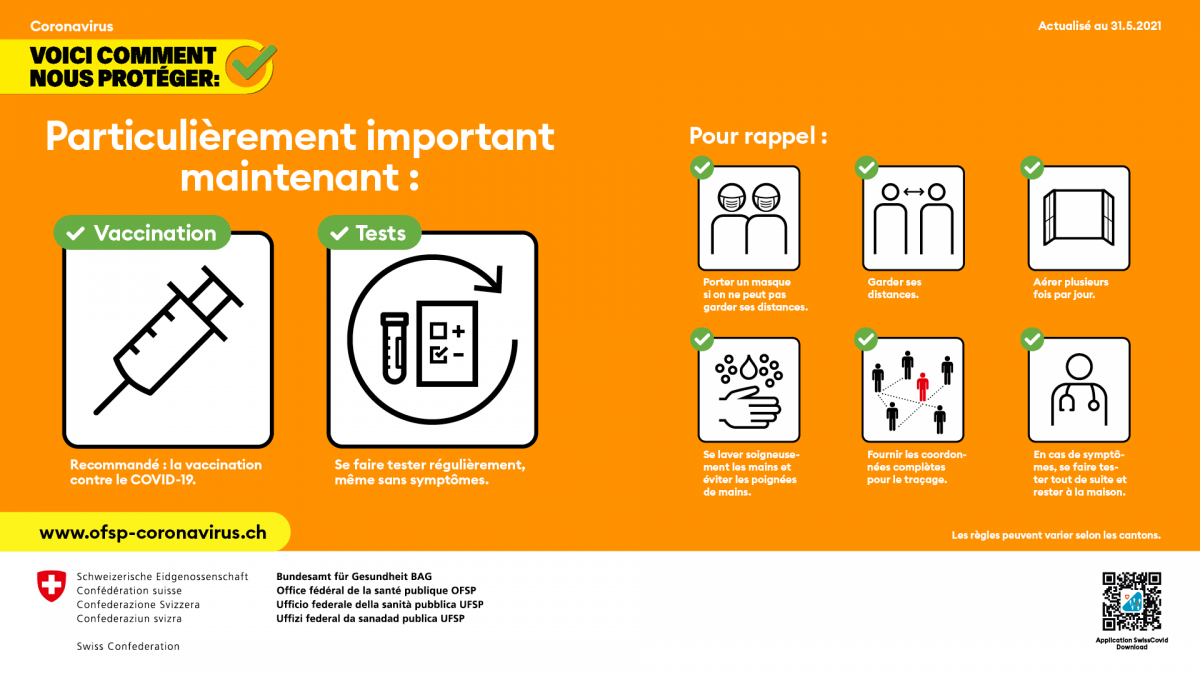 Linked to this page