Information for our visitors
Online since 01.06.2021
Due to the coronavirus outbreak, we invite you to read this information before visiting one of our patients. Thank you.
Visits to patients
Following the recent decisions made by the authorities, it is once again possible to visit patients at the Clinique romande de réadaptation (CRR), but only under certain conditions, in order to ensure that our patients and staff remain safe and healthy.
From December 1st 2020, it is possible to make visits respecting the following conditions :
How many visitors ?
1 visit of 2 hours per day and per patient
3 visitors maximum per visit.
This condition must be strictly respected.
When ?
Every day between 13h and 19h, depending on availability, the therapeutic program has priority. Outside of these times, visits are strictly forbidden.
Where ?
Visits should take places when possible at the cafeteria or outside the clinic. Visits are possible in the bedrooms but are limited to two visitors at the same time per shared room.
How ?
Access to the Clinique is supervised. To avoid being refused entry and the disappointment this could lead to, it is extremely important to organize your visit with the patient you wish to see.
Visitors must provide their own mask (masks made from material are not authorized inside the CRR). In order to guarantee tracability and to control duration of visits, guests must sign in at reception by completing a simple form and presenting some form of identity.
Other information :
Visits to patients in isolation, due to a COVID-19 contamination or those suspected of this, remain forbidden.
The management can at any time limit or stop visits to patients should the situation make this necessary.
Until further notice, it is not possible to receive guests at the restaurant
These measures have been put in place to protect patients, staff and guests, while respecting the conditions demanded by the authorities. They remain valid until further notice.
Wearing of masks
Masks must be worn in all public areas of the CRR. Guests are asked to provide their own mask (masks made from material are not authorized inside the CRR).
How to protect yourself
Find on the site de l'Office fédéral de la santé publique, amm the information concerning hygiene regulations. You can also consult site of the Canton du Valais for general infomation regarding the situation in the Valais.
Special information for people with spinal cord injuries and wheelchair users : recommendations from the Société suisse de paraplégie (SSoP), published in collaboration with four specialized paraplegia centres, of which the Clinique romande de réadaptation.
Remain active
The staff at the Swiss Olympic Medical Center of the Clinique romande de réadaptation accompanies you and advises you how to remain active during this confinement period.
Find the platform Move@Home here.
Reminder of basic hygiene measures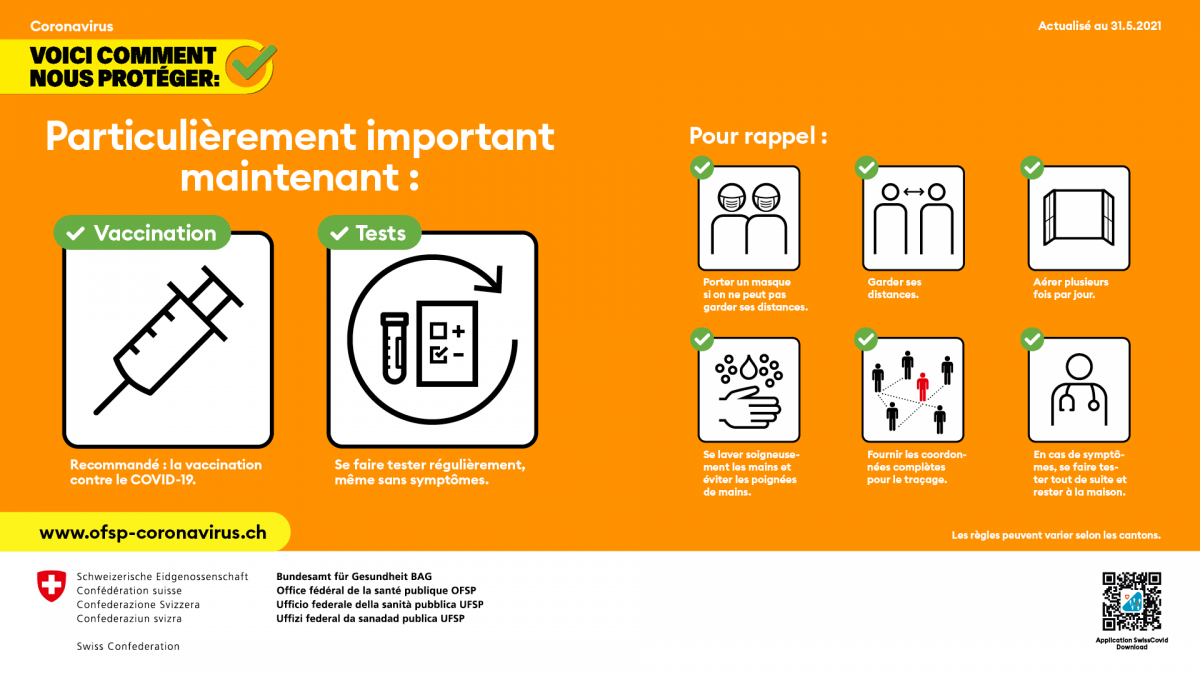 Linked to this page