Information for our visitors
Due to the coronavirus outbreak, we invite you to read this information before visiting one of our patients. Thank you.
Visits to patients with a COVID pass
Following the recommendations made by the cantonal health authorities, the Clinic's management has decided to make the Covid pass obligatory from Saturday the 4th of September 2021.
This means that from this date onwards, everybody (aged over 12) visiting patients must present a COVID pass that certifies vaccination, a cured infection or a negative test.

Visits remain possible between 13h and 19h every day and the number of visitors per day remains unlimited. Outside of these hours, visits are forbidden.
 The limit of 4 visitors in a shared room at the same time must be applied. Visits should be made, when possible, outside the building in the perimeter of the Clinic (gardens, terrace).
Masks must be worn and visitors are requested to bring their own surgical mask.
PLEASE NOTE

Visits to patients in isolation, suffering from COVID-19 or suspected to be, are not allowed.
Until further notice, it is not possible to invite visiting guests to the restaurant.
Wearing of masks
Masks must be worn in all public areas of the CRR. Guests are asked to provide their own mask (masks made from material are not authorized inside the CRR).
How to protect yourself
Find on the site de l'Office fédéral de la santé publique, amm the information concerning hygiene regulations. You can also consult site of the Canton du Valais for general infomation regarding the situation in the Valais.
Special information for people with spinal cord injuries and wheelchair users : recommendations from the Société suisse de paraplégie (SSoP), published in collaboration with four specialized paraplegia centres, of which the Clinique romande de réadaptation.
Remain active
The staff at the Swiss Olympic Medical Center of the Clinique romande de réadaptation accompanies you and advises you how to remain active during this confinement period.
Find the platform Move@Home here.
Reminder of basic hygiene measures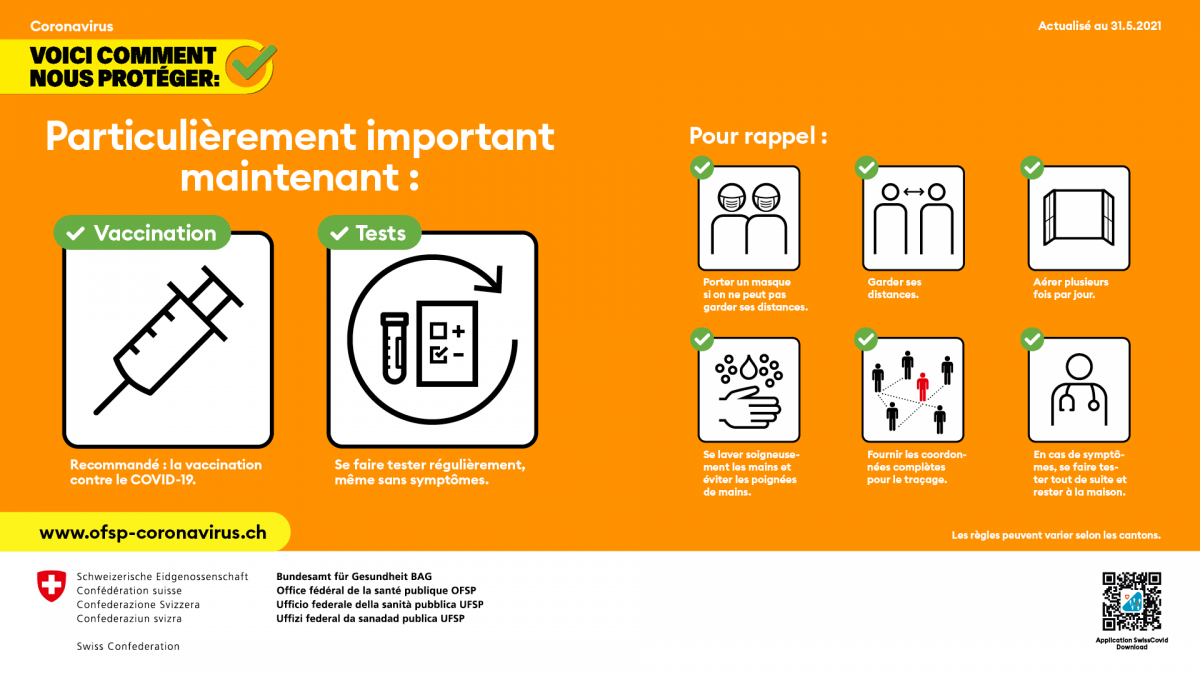 Linked to this page