Certification
The Clinic's management style is extremely client/patient orientated. With constant improvements in services provided and the search for excellence in mind, the Clinic puts a lot of importance into gaining and maintaining labels and certifications.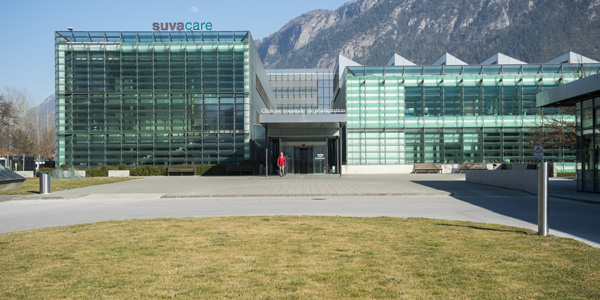 ISO «Healthmark!»

---
The Clinic has officially chosen a system of quality management, with the ISO 9001 : 2015 standard label « Healthmark » (system of quality specific to healthcare) as reference.

The Clinic has been certified according to its requirements since 2003.
Swiss Olympic Medical Center

---
| | |
| --- | --- |
| | This label was awarded by the Swiss Olympic Association to the sports medicine department of the Clinique romande de réadaptation SuvaCare. This partnership has permitted our institution to become a privileged interlocutor for elite athletes on a national and regional level including juniors as well as for leisure sportsmen/women. Our services include providing medical care to athletes (sports trauma medicine) whether it be with re-education (physiotherapy) programmes or with performance diagnostic and planning of tailor-made training programmes. |
European Board of Physical and Rehabilitation Médicine

---
The Clinic has also been designated as an official training centre by the European Board of Physical and Rehabilitation Medicine since 23.03.2001.

For further information concerning the European Board www.euro-prm.org.
FMH Recognition

---
| | |
| --- | --- |
| | The Clinic boasts several FMH recognitions as a post-graduate training establishment. |
SAKR Recognition

---
| | |
| --- | --- |
| | The cardiovascular rehabilitation out-patients centre CHVR-CRR boasts recognition from the SAKR (Schweizer Arbeitsgruppe für kardiale Rehabilitation) as a training centre for physiotherapists and sports instructors involved in the organisation of adapted sporting activities, in the prevention and cardiovascular rehabilitation fields |