Assessment and consultation centre
The policy of the assessment department is to quickly and efficiently detect and care for cases recommended by the Suva. The main objective of this centre is to establish within 6 to 12 weeks following the trauma what the resulting damage is and what medical care will be efficient in leading to recovery.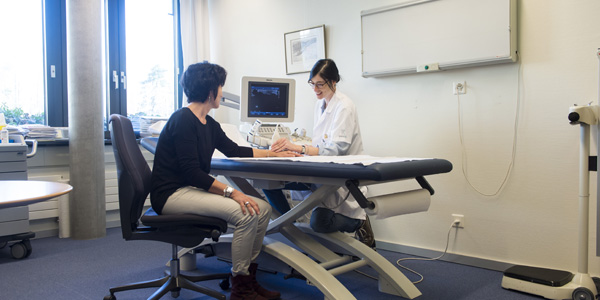 The approach is one of bio-psycho-social, this means that it is not limited to identifying the damage and proposing the treatments needed, but also looking at the wider picture of the situation, by considering how difficult personal factors (motivation, personality for example) or contextual aspects (socio-professionnal) can interfere with successful re-integration of the patient within his professional circle. Such an approach can only be a multidisciplinary one, involving where necessary all the health care professionals in the Clinic (doctors, psychiatrists, physiotherapists, occupational therapists, neuropsychologists).
For those cases which have evolved into chronic situations, the approach is different, and we are then in the field of assessment : this mainly involves determining what capacities can be medically accepted in the usual professional activity and/or in an adapted activity, which is rarer than delivering a decision based on the cause of the incapacity.

Consultations

---
The Clinic also carries out out-patient consutations in a councilling manner in the fields of physical medicine & rehabilitation, of neurology, of neuropsychology, of psychosomatic medicine, of adult and child rheumatology, of sports trauma medicine and of orthopedic technique.