Portrait
Rehabilitation, according to the definition given by the World Health Organisation (1968), is: « a process aimed at enabling patients to reach and maintain their optimal physical, sensory, intellectual, psychological and social functional levels. Rehabilitation provides disabled people with the tools they need to attain independence and self-determination.»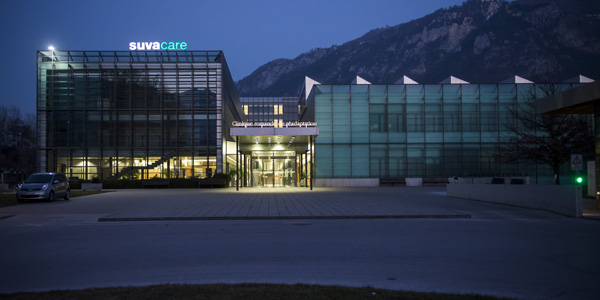 It is with this in mind that the Suva created the Clinique romande de réadaptation (rehabilitation clinic). It is located in the outskirts of Sion, capital of the Valais, right next to the hospital and the 'Institut Central des Hôpitaux Valaisans'. Its total surface is of 34'000 m2 and over 350 collaborators work there.
The sunny and mild climate, the beauty of the surrounding mountains, the closeness to the town and the diverse tracks on site permit the patients to increase their activities in function with their renewed capacities.
The Suva also has a clinic in the German speaking part of Switzerland, in Bellikon.
Capacity

---
| | |
| --- | --- |
| Number of beds | 145 |
| Number of rooms | 84 |
| Size of the rooms | 40 m2 |
| Equipment in the rooms | TV, private wash sink, shower, WC, balcony, division communal & private |
In February 2015, the Clinique inaugurated a brand new extension to celebrate its 15th anniversary. Here you can find all the information regarding this extension
Key figures 2018

---
| | |
| --- | --- |
| Turnover | CHF 62 million |
| Number of beds | 145 |
| Occupation | 97.7% |
| Number of patients hospitalised | 1319 |
| Number of days (hospitalisation) | 51'692 |
| Patients hospitalised, insured by Suva | 61.1% |
| Patients hospitalised, insured by LAMAL | 32.4% |
| Patients hospitalised, other insurance | 6.5% |
| Average stay | 39 days |
| Average age of patients | 47.5 yrs |
| How many out-patient | 7'965 |
| Out-patient turnover | CHF 10.3 million,of which 16.6 % of the total |
| Average EPT (full time equivalent ) | 321 |