Our charter
With its unique array of services - prevention, insurance, rehabilitation -, the Suva (Swiss National Insurance) offers its customers global health cover. One of its main concerns is the rehabilitation of patients following an accident in one of their own clinics, one of which is the Clinique romande de réadaptation.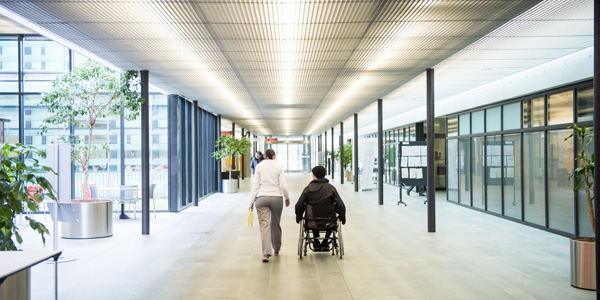 Mission

Each member of staff working in the Clinique romande de réadaptation seeks, by their intervention, be it either direct or indirect, and within the interdisciplinary approach, to promote the patient's active participation in all aspects of everyday life.

Valeurs

Professional ethic, mutual respect, loyalty, thoughtfulness and keeping the patient in a safe and secure environment all guide each member of staff in his/her mission.

Vision

By a global approach and constant assessment, each member of staff is committed to reaching and maintaining high quality services, in order to consolidate and develop, for the Clinic, the position of leader in the field of rehabilitation.
Definitions for values and principles

---
Interdisciplinarity is on one hand the bringing together of information and know-how between the different professions orientated towards a common objective and on the other hand a complementary sharing of tasks , in view of better efficiency .
Participation is an individual's involvement in life situations regarding their state of health , their functions, their anatomic structures, their activities and personal and environmental elements .
Professional ethics is a competence linked as much to the development of scientific knowledge as to empathy. It tends towards offering therapeutic means in the patient's best interest. Inherent from responsibility, it respects confidentiality and avoids all forms of discrimination .
Mutual respect is a considerate and respectful intention towards an individual (colleague, patient, external partner) evident by an understanding and comprehension of opinions and different cultures .The term « mutual » obviously implicates a notion of reciprocity which is necessary to reach and maintain this attitude .
Loyalty is a trait of behaviour inseparable from the sentiment of mutual trust and of individual responsibility, which is expressed regarding other people (patients, colleagues, hierarchy and employer). It consists of respecting commitments and agreements, of working in all situations in a professional manner and of communicating openly and clearly .
Thoughtfulness is a welcoming and open attitude . This is gained by kindness and concern towards another person and the search for solutions to help them .
A safe and secure environment designates an overall approach to behaviour both individual and organisational, based on common values and motivations, and with the constant aim at reducing harm to the patients.