Paraplegic and tetraplegic rehabilitation
This department is the only paraplegic rehabilitation service in the French speaking part of Switzerland. It cares for patients presenting low or high medullary damage: loss of use of their legs (tetraplegic loss of use of all four limbs) following an illness or accident and needing rehabilitation, a follow-up or care in the case where a complication has occurred.
It is often very difficult to imagine what losing the use of ones legs or arms represents for somebody not used to the problems caused by a physical disability and the care needed in these cases. Many people believe that the main problems encountered by the paraplegic patient involve only the lack of movement of their legs.
In fact the problems are much more serious as many other bodily functions are affected, especially continence functions which can have a terribly negative effect on the patients social life. For those suffering from medullary damage, it is not only a question of adapting to a new situation, but also building a new self-image, being capable of planning new projects for the future and keeping a positive attitude; in a word, 'existing'.
The multidisciplinary care begins very early and accompanies patients by offering them all the necessary means to manage their lives and develop their future projects. An interdisciplinary approach organised between various departments of the Clinic allows the carers to plan and carry out joint, coherent and dynamic therapeutic treatments involving both the patient and their loved ones.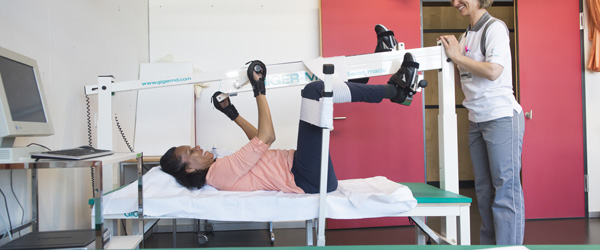 The rehabilitation programme constantly confronts the patient with his new-found limits, to the constraint that this new body decrees, to the management of different situations that the disability will cause.
The paraplegic department benefits from

---
adapted rooms

a urodynamic laboratory

a sitting laboratory

a neurophysiological laboratory.
Our trade partners and associated companies

---
PLuSport

: Swiss federation of sport handicap

Swiss Paralympic

: organisation which promotes Swiss elite sport handicap athletes

Défisport

: association whose objective is to propose activities adapted to disabled people

Société suisse de paraplégie

: association grouping paraplegic specialists. Dr Xavier Jordan, head of the paraplegic department at the CRR, is a committee member

Swiss association of rehabilitation

: mediator regarding questions and/or requests concerning rehabilitation. Dr Xavier Jordan, head of the paraplegic department at the CRR, is a committee member

CFRVR

: club en fauteuil roulant du Valais romand (wheelchair club from the french speaking part of the Valais)

ASP

: Swiss paraplegic association