Physiotherapy
The physiotherapy department is characterised by the fact that it takes patients into care from the early stages of rehabilitation through to the professional re-integration stage.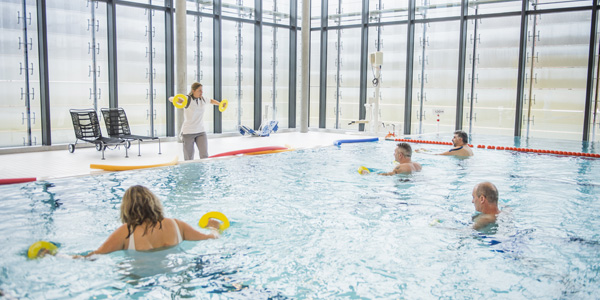 The department is held under the responsibility of a head physiotherapist assisted by two head of unit physiotherapists and a teaching physiotherapist. This team can rely on support from specialist colleagues in diverse domains.
The department consists of 3 units:
neurological rehabilitation (neuroréa)

musculoskeletal system rehabilitation (REA)

out-patient physiotherapy (mainly sport trauma physiotherapy)
Physiotherapy treatments call on procedures based on convincing data (manual therapies, diverse rehabilitation concepts, neuromuscular proprioception, therapeutic training, etc…) The choice of physical activity remains traditional taking into account recent evolution, particularly in electrotherapy. The physiotherapists are also implicated in assessing a patient's functional capacities. All treatment programmes are preceded by an array of validating tests and professional appraisals. The physiotherapy department provides basic professional training by welcoming placement students from the HES-SO. On-going training also takes a large place in the training aspect of this department.