Merrry Christmas and a Happy new Year 2019
Online since 17.12.2018
At dawn of a brand new year, it is with great gratitude that we glance back at the past 19 years of activity in our Clinic.
A wondeful period, creative, dynamic, thrilling. Our thoughts and our messages of thanks go to those who have made this fantastic adventure possible. We enter our 20th year in 2019 with the ambition to follow our mission, in order to enhance the every-day lives of people affected by their health issues.
We will not allow the whirlwind of activities and the excitement of the festive season cloud what really matters. This festive period offers us time to spend with our families and our friends. We wish you all a peaceful and happy time with your loved ones. Merry Christmas and Happy New Year 2019 !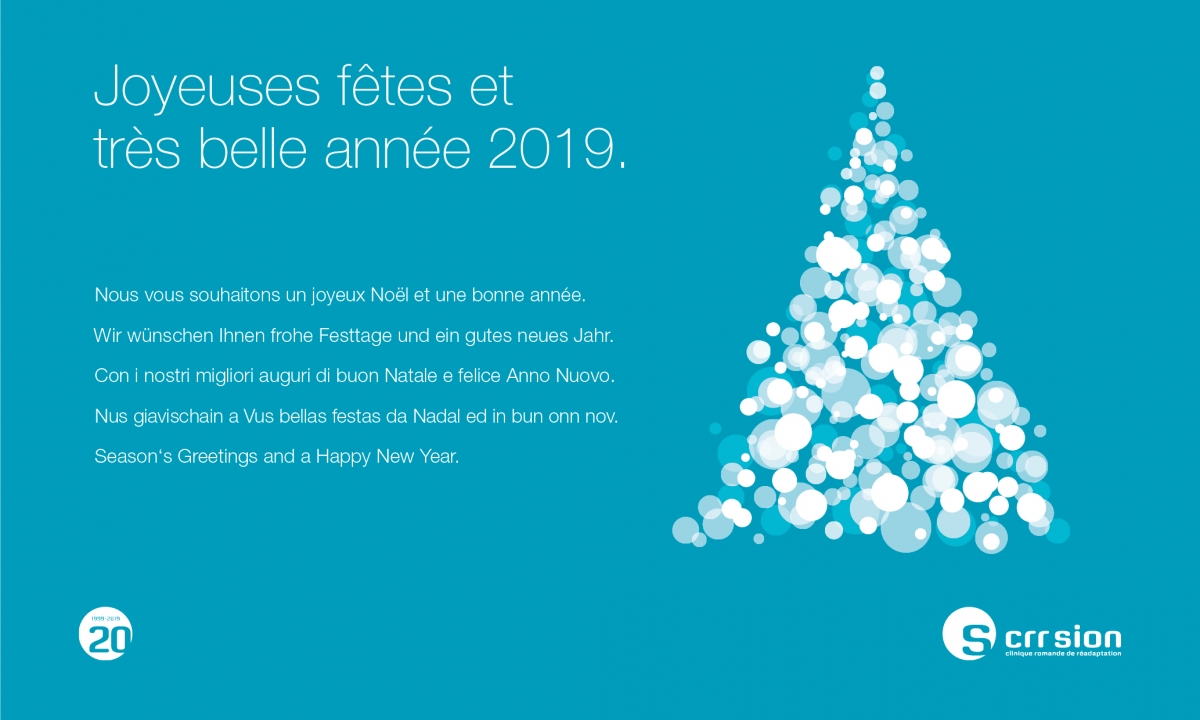 To celebrate its 20th anniversary, the CRR is undergoing a face-lift

---
After 20 years of hard and loyal service, the visisual identity of the Clinic has more than served its time. To celebrate, it is time to bring a modern touch to our image. In the process, a certain line of Suva identity has been kept with regards to our sister clinic in Bellikon (AG).
In conclusion, this new visual impact will allow us to strengthen our position and bring a welcomed touch of modernity. The main distinctive features are the following :
The historical name ' Clinique romande de réadaptation' remains and appears on the « base line » of the logo.
The visual aspect puts the acronym « CRR » and Sion in place, allowing a stronger identifcation of the Clinic and its location
Turquoise is the colour used for the Suva and has now become that of the clinics
The font used has evolved to more modern and easily read letters
The circle with the « s » to mark the location with Sion
Different variations are also possible, with or without the « Clinique romande de réadaptation » depending on the support and its readability.
In addition to this, a special logo for the 20th anniversary has also been created, to mark this jubilee with a distictive sign.
The changes will be made progressively over the following weeks.