The CRR offers the following services :
Sports medicine consultation

---
Our experience in sports medicine allows us to find an appropriate solution to each situation. Our main objectives target both prevention and the treatment of injuries to the musculoskeletal system as well as the establishment of rehabilitation programmes in order to help a return to sporting activities.
Performance diagnostic

---
Performance diagnostics is the first step in planning an appropriate sports training programme whether it be in the domain of high level performance sports or simply for a healthy physical activity. Last cry technical equipment permits a complete and precise diagnostic in different domains such as endurance, strength or speed.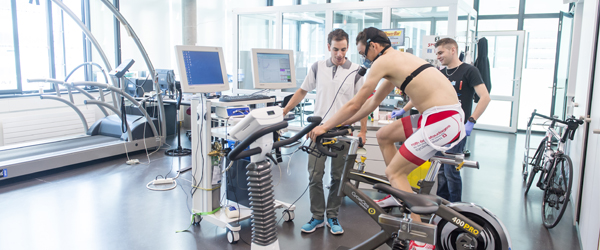 Sports & health advice centre

---
On the basis of diverse physical condition tests carried out in our laboratory, training advice can be given to our clients. On request, training plans can also be drawn up.
Our centre and its expertise in the sports medicine field is also open to physiotherapy and physical education students, being trained by universities and universities of applied sciences. Regular collaboration is established with Swiss Olympic for training trainers and coaches. In addition to this, regular interventions are organised in domains linked to physical activity and health and on the basis of the Confederation's policy for sport.
Sport psychology consultation

---
In addition to an appropriate physical preparation, the mental and psychological aspects are becoming more and more important in the life of athletes.
In fact, during competitions, their performances are often influenced by these mental aspects.
Topics like stress and emotions management, post-injury or poor performance confidence building, as well as mental coaching in preparation of important competitions can also be tackled.